2 tags
2 tags
2 tags
3 tags
4 tags
Just One Kiss...: Holy shit! Box Spoilers! →
malia-amane: I need some NCIS: LA scoop on Kensi and Deeks. Will the box return? — Chelsea ADAM: Sort of. Executive producer Shane Brennan says that what the box symbolizes will be explored. "If you look at the box as a ratcheting up of their personal relationship, you will not be disappointed," Brennan says…. they are so kissing
3 tags
TV Guide asking for NCIS: LA Q's
If you want to tweet your NCIS: LA and Densirelated questions to TV Guide/Adam Bryant: Do it NOW! Tweet to @adam_bryant
3 tags
switchbladeshade: Celtic Vipers? Couldn't they have picked a better name for their team? Anyone have any ideas of what a better team name could be? Called them White snake
4 tags
4 tags
4 tags
Man, I want The Shield to stay together forever, but damn, I would love to see a Rollins/Ambrose feud so fucking much. Their precious matches have been amazing.
5 tags
I have a feeling that Orton's chance of turning heel just got bigger. I feel like if they have him team with Sheamus and/or Ryback, Orton is going to turn on his partner.
4 tags
Awesome Vince: Take away 14 months from someone that actually made the championship worthwhile and give it to a so call "movie star", who will be gone soon and will drop it to Cena? This is why your product is failing.
4 tags
Ziggler
I will be shocked if they let Ziggler win Beat the Clock challenge. Of course, they want to end this show with Sheamus winning and fucking John Cena…that would be so predictable and vanilla. Just like WWE programming.
3 tags
3 tags
Punk owned Rock
I like the Rock, but seriously he needs to stop with those corny jokes. When he goes there, he becomes like a PG13 version of Cena. It definitely felt like he ws reading from a script. This worked in 1998, not now. Punk went hard and everything that came out of his mouth was the gospel truth. Especially, about the fans being like puppets. They did exactly what Punk was describing. The...
3 tags
haha Heyman is crying…I love this man
3 tags
Go home Cena
wow Cena won again. Where were The shield to stop this injustice.
3 tags
Go home Cena
Just let Ziggler win, he's the future.
3 tags
1 tag
1 tag
certainobscurethings: i will be watching top chef forever.  i found season 2 online!  lame day ahead.  where u find it online?
6 tags
5 tags
To all the AJ haters and slut slaming
I didn't know kissing men meant AJ is now considered a slut. If that is the case, then I guess I can call all you ladies sluts too. Stop with all the hateful judgment. It's truly pathetic.
3 tags
4 tags
Frack you Slammy's
So where us Punk vs Bryan? They deserve that spot over any shitty match Cena was put in this year.
I love how my channel is like ten minutes ahead of...
imimmortal08: but I don't get the next episode preview which blows. Is juice okay?
4 tags
3 tags
2 tags
2 tags
2 tags
2 tags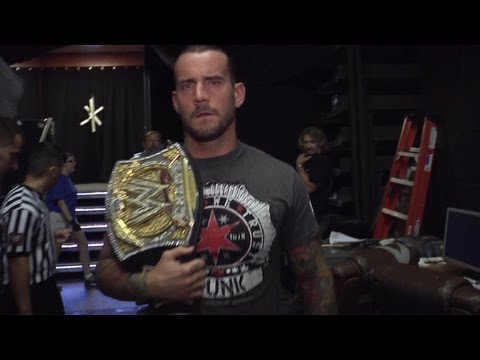 2 tags
1 tag
2 tags
1 tag
1 tag
1 tag
1 tag
Watch
girlwithherowncloud: My favorite MITB  Moment … Gosh I Love it <3
1 tag
3 tags
Watch
lili-heartbeat: Freakin' Awesome!!!
2 tags
so...
janavia: I saw pics on my friends blog of matthew with diana agron and ricky bates.some are with my friend too.  don't know if i should post them on here. maybe she will get pissed i don't dare ask her I want to see those pics
2 tags
sarayajades: This is my take on what happened during CM Punk and AJ's talk about where they are in their relationship and whatnot. After RAW 6.25.12 // AJ & CM Punk: Read More
2 tags
3 tags
2 tags